I knew that I wanted to get my kids something really cute for Valentine's Day this year, but to be honest, I just didn't want to spend too much money on it!  So when I came across these adorable personalized Valentine's Day cups for kids, I KNEW exactly what I was going to do.
---
Subscribe to our email list for great gift ideas right before holidays and big occasions.
Some links on this page many contain affiliate links. For more information, see our disclosure policy.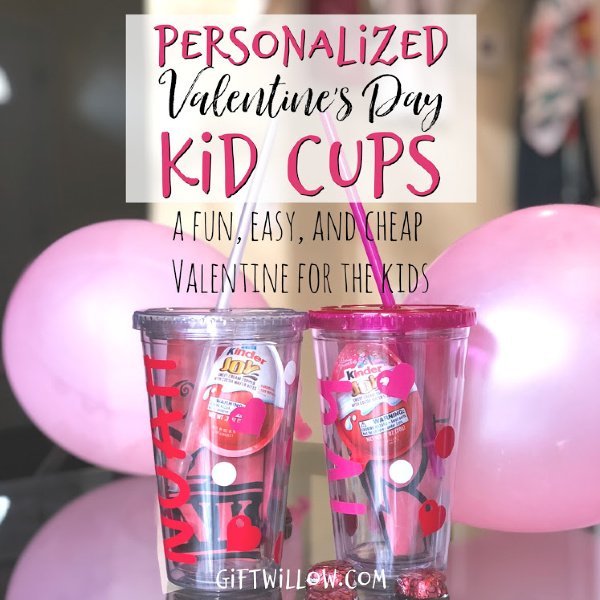 First of all, they're only $10, which is totally within budget. Plus, my kids absolutely love these kinds of cups for drinking water, so they get a lot of wear and tear in our house (so it is almost a practical purchase as much as a gift!).
But really, what I love most is that they're adorable and personalized.
Plus, any gift that can act as its own "basket" is so much fun because you can find adorable little things to go inside!

What to Put Inside Your Valentine's Day Kid Cups
So what kinds of things can you put inside your personalized Valentine's Day kid cups?
For me, I really wanted to try and keep the budget under $15 for each of them, so I hunted around for some inexpensive, but fun Valentine's Day ideas and settled on two cute ideas:

Valentine's Day Love Stinks Whoopie Cushion
Cue the eye rolling!  I know, I know. But seriously, I KNOW my kids will get a kick out of a whoopie cushion and this one is Valentine's Day themed, so I couldn't resist.
Plus, it's only $3! Which is a perfect little fun addition to their Valentine's Day cup.

Kinder Eggs
I know an egg isn't exactly Valentine's Day-ish, but my kids are obsessed with these Kinder Eggs and they only turn up during special occasions, so this seemed a perfect fit…in two ways because the egg itself is also a perfect fit for the cup ;-).

Other Inexpensive Valentine's Day Ideas for Your Kid Cup
Obviously there is a whole slew of ideas that you could use to put inside your kid's Valentine's Day cup, so if the whoopie cushion and Kinder Egg aren't your thing, no fear!  Consider some of these fun ideas:
Socks
Bouncy Balls
Balloons
Squeezables
Crayons
Bubbles
Sunglasses
No matter what Valentine's Day gift for the kids you choose, I hope you have a great holiday with the whole family!

You may also be interested in:
---
Subscribe to our email list for great gift ideas right before holidays and big occasions.