It's hard to top holidays with preschoolers – they just get so into it! And Easter is certainly no exception. In fact, from a parent's perspective, I think it's one of the best. Less stress, warm weather right around the corner, and a lot of fun with the kids. So hopefully these Easter basket ideas for preschool boys can help you enjoy the holiday even more!
---
Subscribe to our email list for great gift ideas right before holidays and big occasions.
Some links on this page many contain affiliate links. For more information, see our disclosure policy.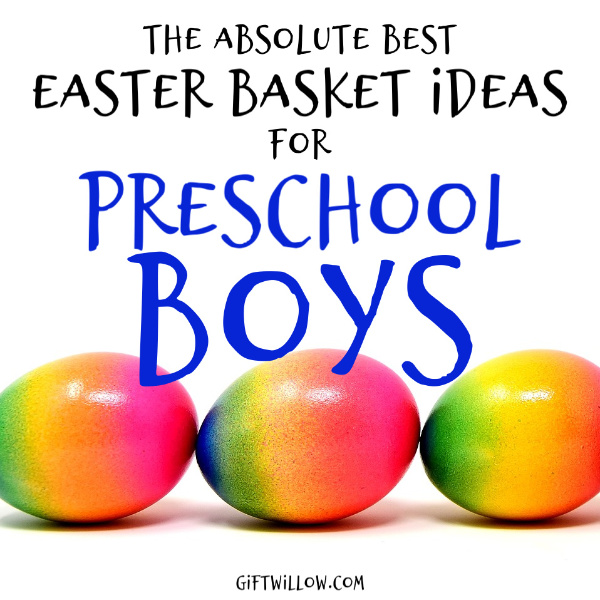 Decorate-Your-Own Train
This decorate-your-own train is such a fun craft idea that will get all preschool boys excited!
It incorporates paint (which, if you haven't discovered yet, they love!), as well as constructing their own vehicle.
It's a really fun non-tech gift idea and a perfect Easter basket filler for preschool boys.
It also comes in different versions, so check out the car, truck, and plane if you think they'd like those vehicles better.

Dig It Up Dinosaur Eggs
Dinosaur lovers get ready! These dinosaur eggs come in the shape of eggs (perfect for Easter baskets) and your little boy gets to chip away at them to find the fossil.
This is another really cute non-tech gift for boys and the fact that it's Easter-themed makes it a great Easter basket filler idea.

Flashlight
It's funny how sometimes the weirdest things are the biggest hit with preschool boys and a flashlight is definitely one of those things.
Your preschooler will be exploring EVERYWHERE with their new flashlight.
It's also a great thing to leave with them at night if you're trying to get them to stay in their own bed!

Binoculars
If your little boy is ready to flex his explorer skills, then binoculars are another great gift that they will have a lot of fun with.
Not only will they be able to start using it to actually see things, but they'll have a lot of fun using it to play make believe (it's like dress-up clothes for boys!).

Monster Spray
Monster spray is one of the most brilliant gifts for preschool boys and excitingly, it's outrageously effective.
The concept is simple – before bed every night, your little boy sprays the monster spray wherever he thinks monsters may turn up.
Once sprayed, it's impossible for monsters to come…they just can't handle being near the spray. 😉
Seriously though, this is such a cute gift and something that they will absolutely love! I gave this to my son and it instantly became one of his favorite parts of his bedtime routine.

Easter LEGOs
No matter what I put in my preschooler's Easter basket, the LEGO set is bound to be the favorite.
Preschool boys have the ability to become absolutely obsessed with LEGOs! And if that's the case for your preschooler, then rejoice, because it's a really great skill for them to pick up.
But for the purposes of their Easter basket, it's just a really fun and exciting addition (and possibly the favorite)!
Here are some of the fun Easter LEGO sets:
Arts & Crafts
Preschoolers absolutely love arts & crafts and they're a great activity to fill their time with.
Depending on how proficient your little boy is with arts and crafts, there are a lot of different directions you can go with this, but these were the favorites of my son through his preschool years:
Easter Books for Preschoolers
Books are always great gift ideas for preschoolers and Easter baskets are no exception!
Preschool boys are right at the age where they are learning to read themselves, so books take on a new level excitement for them, which is really adorable.
There are a lot of fun Easter books for preschoolers, but here are some of the best:
Water Guns
I tried so hard to avoid giving my kids pretend weapons as toys, but I just couldn't look past the fun that comes from playing around with water guns.
They're almost a summer right of passage!
If you're preschooler has siblings, then you can opt for a set so that they each have their own.
Or you can go big and get them the classic super soaker!

Beach Toys
If you head to the beach at all over the summer, their Easter basket is a great time to give them some really fun beach toys.
Here are some really fun ideas to consider:
Flip Flops
Flip flops are one of my favorite Easter basket fillers for boys (really for all ages) because nothing screams summer like flip flops.
I also am a huge fan of having fun summer and/or spring shoes as Easter basket fillers because their feet grow so fast that they'll need a whole new set of shoes anyways – so why not make it fun and kill two birds with one stone?

Sunglasses
Sunglasses are another fun way to celebrate the emergence of spring and summer, so they're a fun Easter basket addition (especially if you're filling your basket with other outdoor goodies).
Preschool boys should start to get in the habit of wearing sunglasses anyways to protect their eyes, so this is a good way to get them excited about it.

Balls
You can't go wrong with balls and for the most part, you can't have too many balls!
I'm a huge fan of anything that will get the kids outdoors and balls are the perfect way.
And preschool boys are really starting to understand the different purposes and uses for different balls, so you really do have a lot of options.
Here are some fun ones to consider:
I hope these Easter basket ideas for preschool boys helps fill your basket and make your Easter morning special and fun! Good luck with your shopping and enjoy your summer.

You may also be interested in:
---
Subscribe to our email list for great gift ideas right before holidays and big occasions.