Coming up with the best Easter basket ideas for 2-year old girls is one of the cutest endeavors you'll ever go through. Every single thing you look at will make your heart melt and you know they're finally old enough to get really excited about it!
Since spring and summer are right around the corner (if not in full swing), their Easter basket only becomes cuter because you can fill it with bright and happy things that will pull them outside and help them enjoy the outdoors…in style!
This is one of the funnest holidays of the year, so enjoy every minute with your toddler. I hope these gift ideas for their Easter basket make your shopping easier and your Easter morning happier. Good luck!
---
Subscribe to our email list for great gift ideas right before holidays and big occasions.
Some links on this page many contain affiliate links. For more information, see our disclosure policy.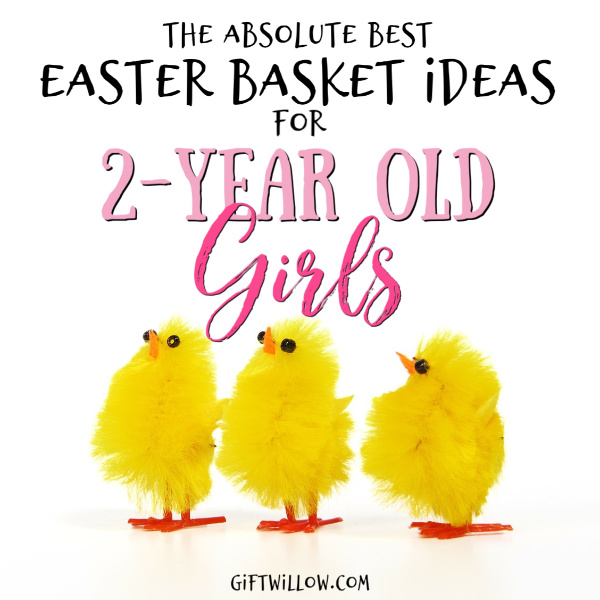 Gardening Set
Nothing makes a 2-year old happier than having their own little version of something they watch their parents use…and these gardening sets not only make them happy, they're also the most adorable gifts out there.
Not to mention that anything that keeps your toddler happy and occupied outside is a total win! Which makes these perfect additions to your 2-year old girl's Easter basket.

Easter Books for 2-Year Old Girls
What good is an Easter basket for 2-year old girls without some adorable Easter books?
Luckily, there are a lot of really cute spring-themed toddler books that are a perfect fit for an Easter basket.
Here are some of the best:
Cute Toddler Water Bottle
Gone are the days of sippy cups! Now it's time to welcome your next series of drinking vessels – cute water bottles.
As I'm sure you've picked up on, toddlers are drinking constantly. And now that they're on the go more often, it's harder to drag around sippy cups that are less durable, smaller, and easier to spill.
But more important than making your life easier, your 2-year old girl will be so excited to see her very own water bottle! She'll figure out how to drink out of it right away and my bet is that she'll carry it around with her.
These are great Easter basket ideas for 2-year old girls!

Toddler Sunglasses
There isn't much cuter than a 2-year old girl in sunglasses. And they make perfect Easter basket fillers.
Whether they use them for their actual purpose (which they should start getting used to), or just for dress-up, it doesn't matter because they'll love them!

Bubble Machine
I have one job when we go outside – turn on the bubble machine. Everything else just falls into place then.
But seriously – toddlers (and preschoolers and kindergarteners…) LOVE bubble machines.
And these machines are just brilliant! They will create so many bubbles. It will be a springtime wonderland in your yard.
These are a huge hit and make excellent Easter basket fillers for 2-year old girls.

Outdoor Toddler Chair
These outdoor chairs are absolutely adorable…and they will get such good use!
If you want to be creative, you can also just use this in place of the basket and put all of your 2-year old's Easter basket fillers right in the seat.
They can be used inside or out and are great to take to the beach. These are really fun to have on hand!

Toddler Jewelry
Toddler jewelry is one of my favorite parts of having a 2-year old girl.
They are so proud and excited to be wearing their own jewelry and whether they're just playing dress-up or actually want to wear their jewelry all day, you're going to melt every time you see them!
There are a lot of fun toddler jewelry options, but these are my favorite! They are adorable Easter basket fillers.

Sidewalk Chalk
Sidewalk chalk is a classic Easter basket filler for 2-year old girls and for good reason – toddlers have so much fun with chalk!
Anything that gets a toddler happily playing outside is a worthwhile Easter basket filler and chalk is also one of the least expensive options out there, so it truly does work with every budget.
But most importantly, your little girl will have a blast learning to draw and there's no better place to do that than outside.

Foam Bath Stickers
Bath time is FUN for 2-year old girls, so make sure they're decked out with lots of fun toys! These foam bath stickers were, by far, the favorite bath toy for both of my toddlers and they last for years.
Better yet, they end up learning so much from them! If you get the animals set, they're start learning those words. If you get the letters set, they'll actually start to learn the alphabet. And no matter which you get, they'll start to pick up colors.
Both of my kids learned so much in the bath, so this is a great Easter basket filler for 2-year old girls.

Beach Toys
If you're a beach-going family, then beach toys are the perfect Easter basket filler for your 2-year old girl because toddlers LOVE the beach.
Here are some good classics to consider for your toddler:
Puddle Jumper
Now that your baby has turned into a toddler, it's time to equip them with everything they need for a summer of fun!
If you'll be near water (beach or pool), a puddle jumper may be your new best friend.
They're the modern-day life jackets and it's what all the other toddlers will be wearing around the pool.
So deck your 2-year old out with a cute puddle jumper and breathe a slight sigh of relief around the water.
I hope these Easter basket ideas for 2-year old girls work their way into your Easter morning! Enjoy the holiday and savor all the moments with your toddler. Happy Easter.

You may also be interested in:
---
Subscribe to our email list for great gift ideas right before holidays and big occasions.