There's something about the toddler years that makes you want to shower your little girl with gifts! They're so inquisitive and start to get so excited about the funniest things. But shopping for them is HARD. There's so many options and it's really difficult to know what will actually be exciting. So hopefully this list of the best gifts for 2-year old girls will make that easy for you!
Everything on here has been tested by multiple expert 2-year old girls and passed the test with FLYING colors.
No matter what you choose, they'll be so excited and it will definitely be adorable to watch. 🙂
Happy shopping!

---
Subscribe to our email list for great gift ideas right before holidays and big occasions.
Some links on this page many contain affiliate links. For more information, see our disclosure policy.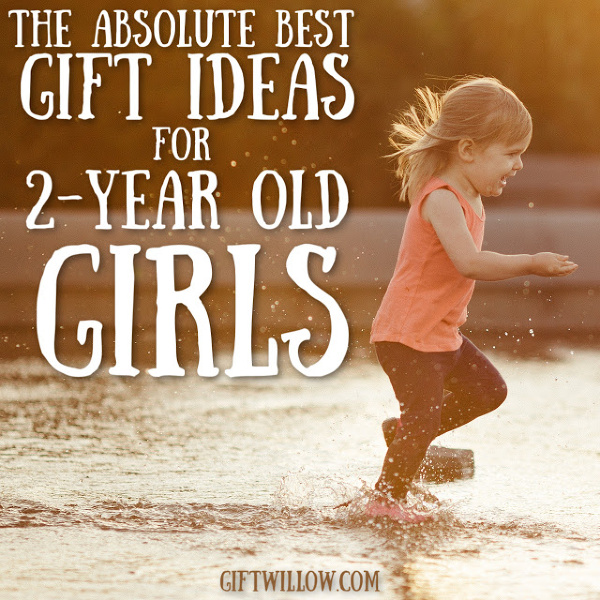 Bubble Machine
Oh boy, I can't rave enough about the bubble machine!
This fabulous invention actually blows a solid stream of bubbles at your toddler for hours on end!
It's a great addition to a backyard play area and takes so much weight off of the adults needing to blow bubbles.
Not to mention, your yard will look like a toddler's dreamland – it's unbelievable!
This is definitely one of the best gifts for 2-year old girls that you will come across.

Toddler Books for 2-Year Old Girls
Toddler books are an easy win for 2-year old girls and there are some really amazing ones out there!
It's hard to narrow down the list, but here are some of my own 2-year old girl's favorite books:
The Cozy Coup
The cozy coup is a classic toddler toy that truly never gets old.
It's something that every toddler should have (maybe YOU even had one!), but what's amazing is that over the years, they've developed styles specifically for girls, which is SO much fun!
So now you can choose between a pink version, the classic red, or if you really want to be the coolest person ever, the unicorn version.

Magnetic Drawing Board
I – and more importantly, my 2-year old daughter – love this magnetic drawing board (and it comes with a travel version!).
It's a classic non-tech toy (always a bonus!) and almost fits into the world of arts and crafts, except there's no mess whatsoever.
This is a great gift for 2-year old girls and one that they will play with for a really long time (and again, it comes with a little version for the car!!).
Counting Caterpillar
This wooden block caterpillar is one of those toddler toys that will completely captivate your 2-year old girl!  My daughter LOVED it.
After she's mastered putting the caterpillar together, it's a great way to learn colors and then eventually numbers.
And of course, there's no batteries, bells, or whistles, which is always a huge plus when it comes to gift ideas for 2-year old girls.
This is a really good option if you're looking for something small and affordable!

Latch Board
This latch board is absolutely brilliant and the perfect gift for a 2-year old girl.
Latches, locks, and hooks are so much fun for them to figure out.
It's a non-tech gift, which is always a major plus and it doesn't make a mess (which is the ultimate plus!).
But really, the most important part of this gift for 2-year old girls is that they will be totally mesmerized by it! Both of my toddlers would sit for quite some time with this board just fiddling around with all the latches.

Bath Stickers
I am a huge fan of bath toys (and bath time in general) and these bath stickers are without a doubt the biggest hit with 2-year olds.
They're easy and they're fun….AND they'll actually start to learn so much! It's really unbelievable to see what they will pick up. Both of my kids had a lot of their first words take place right in the bath with these stickers.
There are a few different sets, but these are the cutest:
Water Table
A water table is one of the best outdoor toys you can possibly get for 2-year old girls.
Especially in the hot summer months, it's a great way to get your toddler cooled off and it will literally distract them for hours!
This (along with the magical bubble machine) is, by far, one of my favorite outdoor toys. I can't recommend it enough!

Toddler Tent
A tent is the perfect gift for 2-year old girls because you're giving them their very own little palace!
Tents are almost a right of passage for little toddlers and they're a really cute addition to a playroom or bedroom.
There are some really adorable tents for 2-year old girls, but here are some of the cutest:
Gardening Set
If you do any gardening work outside, then this toddler gardening set is the best gift idea for your 2-year old girl!
Gardening is one of those messy things that they absolutely love to get involved in.
I will often get a little pot and give my toddlers some soil to play with their little tools.
And not surprisingly, the watering can was one of their favorite parts! EVERYTHING will get watered. 😉

Toddler Kitchen
A toddler kitchen is one of the greatest gifts for 2-year old girls and something that will last a LONG time.
This is another gift idea that feels like it's almost a right of passage and is a really fun thing to have in your own kitchen…because they love doing things just like their parents!

Purse & Accessories
This list is full of gift ideas that will melt your heart and here is yet another one – a toddler purse with accessories!
2-year old girls are definitely at the point where they love to wear their own jewelry and accessories and the purse will be their new favorite thing to carry around – and you'll never know what you'll find in it. 😉
This is a really fun gift idea for 2-year old girls that everyone will love!

Clothes!
Of course, lets not forget the obvious! Kids may not get really excited about opening clothes, but that doesn't mean they aren't still great gift ideas.
When you're considering what clothes to get, keep in mind that you can always opt for non-outfit items like socks, shoes, pajamas, and slippers.
Here are some cute clothes ideas that aren't your classic outfit:
Bows
There's no way not to include bows because they're one of my go-to 2-year old girl gifts!
These are my absolute favorite because they are small and have really adorable designs.
If you're a pigtail wearer, you will want to get 2 of the exact same set so that they match (that is what I've done and I use them for pigtails more than anything, so it was worth it).
I hope these gift ideas for 2-year old girls make your shopping fun and easy, so you can spend more time with your toddler (or planning their party ;-)). Enjoy all of your new toddler items!

You may also be interested in:
---
Subscribe to our email list for great gift ideas right before holidays and big occasions.