Without a doubt, the best gifts for toddlers are books! There are so many great toddler books to choose from and this is the best age to start getting your child interested in reading.
The best part about toddler books is that they're not just about the storyline – there's imagery, interaction, and even sensory aspects that give your child the ability to feel new textures, lift, pull, or flip different flaps…even smell different scents!
There are so many great options to choose from, but these are definitely the best toddler books that you can find.
They'll make great gift ideas and help to start a fabulous toddler library that will get used each and every day!
---
Subscribe to our email list for great gift ideas right before holidays and big occasions.
---
Some links on this page many contain affiliate links. For more information, see our disclosure policy.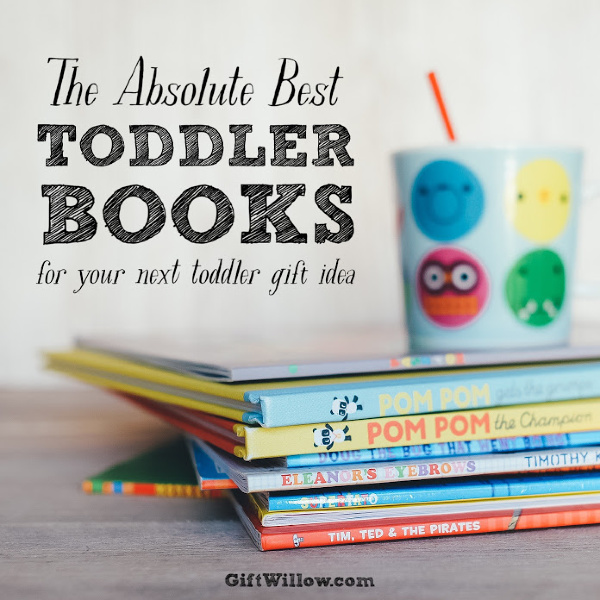 Pat the Bunny
Pat the Bunny is my favorite classic toddler book and I've NEVER met a toddler that didn't love this.
Each and every page has a new type of interaction and your toddler will pick up on it immediately.
They will lift things, smell things, squeak things, and even put their finger through something.
This is a huge winner with toddlers.
If you don't have this book already, it should be at the top of your list!

First 100 Words
First 100 Words is a classic that every single toddler needs to have.  
It's been so successful that there a whole line of First 100 books, ALL of which are worth getting and have been huge hits with my toddlers…obsessions almost.
The entire book is simply pictures with corresponding words, but your toddler will LOVE pointing to the pictures, hearing you say the word, and repeating.
It's a great way to teach your toddler new words and they will have so much fun with it.
In addition to the classic First 100 Words, these are the others favorites:
Ditty Bird Children's Songs
Ditty Bird Children's Songs is the most brilliant toddler book.  I honestly can't figure out why more haven't been made exactly like it!
Each page is a new children's song…but what is so amazing about this book is that it actuallys SINGS the song to your toddler.
This is such a great way to get them learning kids songs and as an added bonus, you don't have to actually be reading it to them which is HUGE.
Anytime you find a toy or book that will occupy them on their own, it's worth getting!

I Love You Through and Through
I Love You Through and Through should just be handed out to every single parent because it's such an adorable story for toddlers to hear over and over.
The theme is as old as time – I love you! – and of course, toddlers just can't get enough of it.
The illustrations are also adorable and exactly what toddlers want to see.
This is a total winner! You can't go wrong with this toddler book.

The Very Hungry Caterpillar
The Very Hungry Caterpillar is one of the best classic toddler books that you can possibly get for your little one.
And there's no wonder why they love it!
The imagery is beautiful and it has some little quirks that make it stand out from other books.
And if you really love The Very Hungry Caterpillar, there's a whole world of toys and accessories that you can get to accompany your book – bath toys, stacking blocks, socks, a stuffed animal, teether toy, and even adorable pajamas!

Dear Zoo
Dear Zoo is a really fun lift-the-flap book for toddlers that features a different "surprise" animal on each page.
It's a really simple story, but so exciting for toddlers and the lift-the-flap ability is something they really love.
This is another classic that has been popular for years and keeps pleasing toddlers and parents!

Where is the Green Sheep?
Where is the Green Sheep quickly became my toddler's absolute favorite book for the longest time.
We searched for that sheep hundreds of times! 😉
This is a really fun toddler book that isn't as popular as some of the others on this list, so it's a great toddler gift idea that they probably don't already have.

Animal Alphabet
Animal Alphabet is one of my (and both of my kids'!) favorite toddler books.
It's simple, educational, and most importantly, a lot of fun because it has sliding flaps on every page.
This is by far the best book to teach your toddler the alphabet, so it's a great addition to a toddler library!

Toddler Bath Books
Bath books are an excellent idea for toddler book gift ideas!
They have the same effect as normal books, only they double as toys and make bath time fun AND educational.
There are a lot of fun ones, but here are some of the cutest:
Little Blue Truck
Little Blue Truck is an absolute classic for toddlers that love trucks.
It has a cute little storyline and incorporates animal noises and vehicle noises (both favorites of toddlers).
If your toddler already loves Little Blue Truck (or if you want to put together a cute little basket), there are some other really fun Little Blue Truck books that you can add:
Ten Tiny Toes
Ten Tiny Toes is from the same great author as I Love You Through and Through and the images are just as adorable.
This is a really cute and addictive book for toddlers that will go over various parts of the body in a fun repetitive way.
My toddlers LOVED this book and quickly learned to pick out their ears, eyes, noses, etc…over and over and over again!

Thomas and Friends Book Box
This little box comes with 4 different board books that BOTH of my toddlers were absolutely obsessed with.
As if the books weren't enough, this cute little box will be used more than you can imagine.
The books all follow Thomas the Train, which is a great character to introduce your kids to, but at a very low reading level that incorporates rhyming and repetition – two things toddlers love!
This is a really great gift idea for toddlers, especially if they've shown an interest in trains.
I hope you get a chance to try out all of these toddler books! They all make great gift ideas for toddlers, so hopefully they help you on your shopping journey.

You may also be interested in:
---
Subscribe to our email list for great gift ideas right before holidays and big occasions.