Picking out the best gifts for 1-year old girls is such a fun task and turning 1 is such a HUGE milestone!
1-year olds are really starting to explore the world and develop their own personalities. So it's a lot of fun to give them new toys and tools to help their minds develop and, of course, make them really excited!
All of these gift ideas for 1-year old girls were a huge hit for my own kids, as well as all the lovely 1-year olds in our lives.
Some of these gift ideas are educational, some are to wear, some are to use, and some are just plain fun!
But no matter what, all of these gifts for 1-year old girls are things that they AND you will totally love.

---
Subscribe to our email list for great gift ideas right before holidays and big occasions.
---
Some links on this page many contain affiliate links. For more information, see our disclosure policy.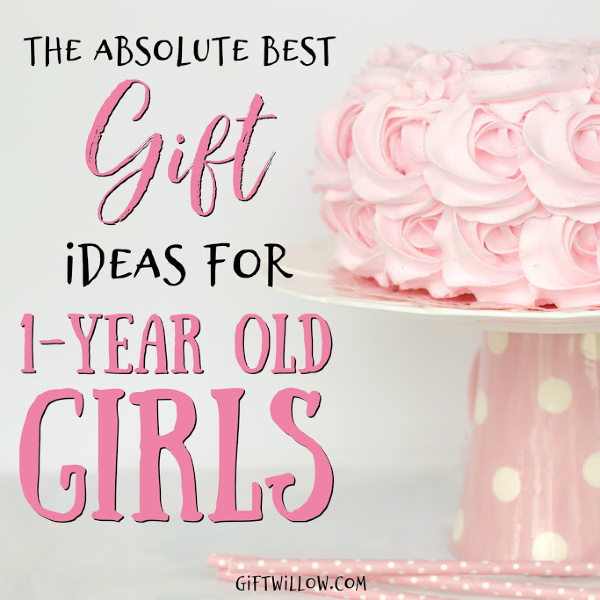 Robeez Shoes
Robeez are the absolute best – and most adorable – shoes for 1-year old girls that you can possibly find.
Not only do they have the most adorable patterns, but they are all soft-soled, which is really good for the feet of new walkers.
Both of my kids lived in Robeez for the first few years of their lives and they LOVED them!
These are so adorable and make amazing gifts for 1-year old girls.

Water Table
If you really want to get your 1-year old the absolute best gift ever, then look no further than the water table.
These things are BRILLIANT.
They will get your toddler outside and will distract them for hours…seriously!
The best part about these is that it's a great way for your little one to get cooled off in the summer, but it's much safer than a little kiddie pool.
You can also decide to fill it with sand in the cooler months if you want!
This is definitely one of the most used toys that my kids have outside. It's a must-have for all toddlers (and will last for YEARS).

Play Purse
Nothing is more adorable than watching a 1-year old girl walk around with her first ever purse!
Not only will they get the hang of it right away, but they will start collecting the funniest things, which is really fun to watch.
Believe it or not, these little purses can also become practical because your 1-year old can take it with her on errands and trips with a few fun toys in it.
This toddler gift is a right of passage that every little girl will enjoy!

Lollacup
Sippy cups are a BIG deal for 1-year old girls and Lollacups are definitely the best!
Learning how to drink on their own is something that all toddlers are so proud of and this cup makes it much easier for them.
It has a weighted straw that helps catch the water easily and the cap seals the straw enough that this cup won't leak when you're on the go.
And, of course, it's ADORABLE. Which is possibly the best part!

Pat the Bunny
Pat the Bunny is an amazing book for 1-year old girls.
Every page is interactive and it's all things that young toddlers will love.
It's a total classic, so you know it's good because it's been around for decades!
All of my kids loved this book…enough that I had to order replacements more than once. 😉

Bath Munchkins
These bath squirts are an absolute must for 1-year old girls!
Bath time is something that becomes so much fun for toddlers, so great bath toys are always a huge hit.
Not only are these fun in the bath, but they're also great for being thrown in the diaper bag or played with in the high chair.
AND they're extremely easy to clean, which is a huge plus for toys that will inevitably be put in their mouth or pretty much anywhere else.

Snack Catcher Cups
Sippy cups aren't the only area of a 1-year old girls life that is starting to become more independent. Snack time becomes a big deal and these snack catcher cups are critical if you want your toddler to learn to eat on their own without making a huge mess.
These cups are truly life-changing – I'm not kidding!
Your 1-year old can walk around with their snack without it spilling everywhere. They're great for playrooms, in the car, or in the stroller.
These are an absolute must for 1-year old girls, so they make a really fun gift addition.

Dear Zoo
Dear Zoo is another really fun book for 1-year old girls that they'll enjoy reading over and over and over again.
It's a lift-the-flap book with a simple message and a lot of fun animals that make an appearance.
It's a total classic that really never gets old, so it makes a great addition to a gift for 1-year old girls.
Cookie Jar
This cookie jar was the biggest hit for not only my 1-year old children, but pretty much all of their little 1-year old friends.
The concept is simple…but that's what makes it so great! They simple need to fit the cookies into the jar…then dump and repeat!
There are also numbers on the cookies, so as your toddler gets older, there will be a new fun activity ready for them.
This was a really fun toy that I often go back to when I'm on the hunt for the best gift for a 1-year old girl (or boy!).

Play Stroller
A play stroller is sooooo much for for a 1-year old girl for 2 different reasons.
First, it's a place for their new little baby dolls! They'll love to pretend to have their own baby, so this is a fun accessory for them to have.
Second, toddlers love to push things around, so you'll probably see way more than just a baby being pushed around in this stroller.
This is a fun toy for inside and outside and definitely an important addition for any 1-year old girl that is already interested in baby dolls.

Baby Doll
Don't forget the absolute best gift you can get for a 1-year old girl – a little baby doll!
You can't have too many of these and odds are that your 1-year probably hasn't gotten too many yet (it's usually stuffed animals that consume their first year).
This is another really fun right of passage that all little girls will really love. And it is so much fun watching them take care of their first little babies!
This is a really fun gift for 1-year old girls that never gets old.

Bath Cups
Bath cups are another really great bath toy that will be way more fun for your 1-year old girl than you ever imagined.
They will pour them and stack them and pour them and stack them and pour them and stack them….and honestly, it will go on forever!
But that's why these are so great. They're simple, but perfect.
And the best part (as is typically the case with great bath toys), these don't need to be limited to bath time.
They're great for playing at the high chair or outside…especially if you've gotten a water table for your little one!
I hope these gifts for 1-year old girls were helpful! Have fun with your little one and good luck on your shopping!

You may also be interested in:
---
Subscribe to our email list for great gift ideas right before holidays and big occasions.