These Easter basket ideas for 1-year old girls are the perfect way to celebrate your little one's first (or second!) Easter. This is such a fun age full of so many firsts, so putting together their Easter basket is special not only for them, but also for you!
All of these Easter basket fillers are classics that they will love even beyond the holiday and none of them involve candy.
Have a good Easter and good luck with your shopping! I hope these Easter basket ideas help you create the perfect Easter basket for your 1-year old girl. 🙂
---
Subscribe to our email list for great gift ideas right before holidays and big occasions.
Some links on this page many contain affiliate links. For more information, see our disclosure policy.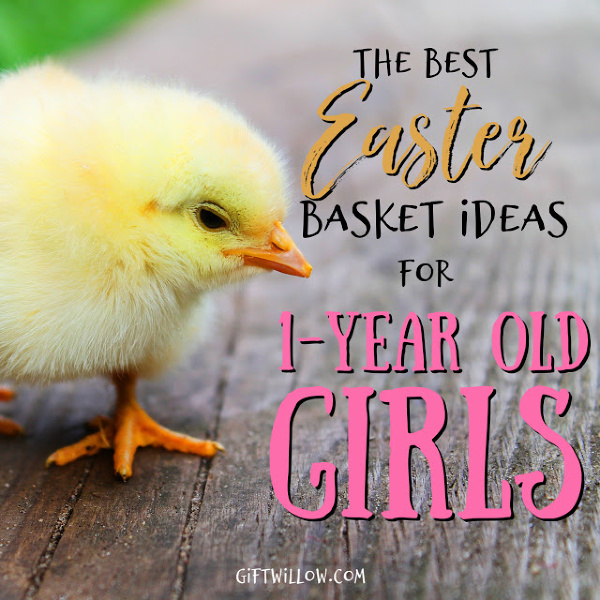 Stuffed Bunny
Don't forget the most classic toddler Easter basket filler of all time – an adorable stuffed bunny!
1-year old girls love cute stuffed animals that they can play with, so this is a fun gift in addition to being perfectly Easter-themed.
There are some really cute ones that you can get easily, or you can order a personalized bunny if you want to create a cute keepsake for them (which is really fun because you WILL look back and remember this Easter anytime you see the bunny).

Easter Books
Toddler books are really great Easter basket ideas for 1-year old girls and there are some really fun classics that are spring-themed that your little one will LOVE.
These are the best to choose from:
Snack Catcher Cups
Snack catcher cups are must-haves for 1-year olds and they're a perfect fit for Easter baskets.
If you're new to snack catchers, they're these brilliant little cups with lids that let your toddler get their snack, but prevent them from spilling everywhere.
These snack catchers will be a part of your life for years to come, so now's a perfect time to fall in love! 😉
They're inexpensive, bright, and something your toddler will love, so they make great Easter basket fillers for 1-year old girls.

Baby Sunglasses
Get ready to melt because not much is cuter than baby sunglasses on a toddler and since spring is on its way, they're perfect Easter basket ideas for 1-year old girls!
Sunglasses aren't just cute, they're also important for your baby to get used to wearing, so there's a practical element to this gift that makes it an even better idea.
But mostly they're just adorable. 😉

Toddler Purse
Whether it's from watching their mom or just something inherent, 1-year old girls all LOVE purses!
They will start collecting tons of little treasures and will carry it with them everywhere.
This is another really adorable gift idea for 1-year old girls and they make really great Easter basket fillers.

Bath Crayons
Bath time is so much fun for 1-year olds and it's a great time to keep them active and creative WITHOUT bells, whistles, and dreaded batteries.
Bath crayons are definitely a great way to do that and they're a classic bath toy for toddlers.
This was something that both of my kids fell in love with, so they turned up not only in their Easter baskets, but also in their stockings, shoes…and really any other occasion that popped up.

Restaurant Placemats
These restaurant placemats are an amazing Easter basket idea for 1-year old girls and an absolute lifesaver for parents that want their toddler to join them at restaurants.
Each placemat sticks to the restaurant table so that your baby can put their food or toys on it without worrying about germs…and then when you're done, you just throw it away!
Once you've used these, you'll never go back!
They're a total game changer for families that eat together on the go.

Robeez
Robeez are some of the best shoes you can get for new walkers and they make adorable Easter basket fillers for 1-year old girls.
They are soft soled, which is really important for toddlers that are just starting to move around.
And they're also sooooo adorable! They have really fun designs that you'll absolutely fall in love with.
Both of my kids loved their Robeez, as did I. This is definitely a great gift idea for 1-year old girls!

Lollacup
In the world of sippy cups, Lollacups definitely reign supreme, which makes them really fun Easter basket fillers for 1-year old girls.
Not only are these toddler cups really adorable, they're also really functional.
When they're closed, they don't spill, which is a huge relief.
They also have a weighted straw, which makes it easier for your little one to drink.
These are great gift ideas for toddlers and ones that you won't regret purchasing!

Bows
Bows are one of the best gift ideas for 1-year old girls for ANY occasion.
You just can't have too many bows!
These are my absolute favorite and they have dozens of cute little designs.
If you want matching sets for pigtails, you need to order 2 of the same set (this is what I do and it's so worth it!)
Bows are adorable on little toddlers, so you can't go wrong here!

Beach Toys
The beach is about to get really exciting for your toddler, so beach toys are a perfect Easter basket filler for them!
It doesn't take much to get these little ones excited about playing in the sand, so all you need are some simple classics like these sifting cups that they can stack or fill with sand.
And when you're not at the beach, they can be fun in the bath too!

Bathing Suit
If you know you'll be visiting the beach, then another fun summer-related Easter basket idea for 1-year old girls is a cute little bathing suit!
Just about any toddler bathing suit that you find will be adorable, but they also make really practical ones that cover their arms and chest from the sun.
This is a really great idea if you'll be outside because their delicate skin isn't quite ready for the sun's rays and some sunscreens are still too harsh for them.

Sun Hat
And lastly, if you're filling your 1-year old girl's Easter basket with summer fun items, don't forget a really cute sun hat!
Sun hats aren't just adorable, they're also really important for toddlers whose skin isn't quite ready for the sun and who may not even have enough hair to protect their scalp.
It's a great idea to get your 1-year old used to wearing a hat, so this is also a really practical Easter basket filler.
I hope these Easter basket ideas for 1-year old girls work their way into your Easter morning! Enjoy the holiday and savor all the memories. 🙂 Happy Easter!

You may also be interested in:
---
Subscribe to our email list for great gift ideas right before holidays and big occasions.