Etsy has always been one of my go-to shopping destinations for one-of-a-kind gift ideas for Mother's Day. Really, it's a great destination for ALL occasions, but there's something special about Mother's Day that lends itself to sentimental, personalized, and handmade gift ideas…and that's really what Etsy is all about!
There are so many amazing Mother's Day gifts on Etsy, but these are the absolute best and ones that will make all moms melt!
So if you're still on the hunt for the perfect Mother's Day gift, look no further because these gifts will absolutely do the trick.
Good luck with your shopping and have a fabulous Mother's Day!
---
Subscribe to our email list for great gift ideas right before holidays and big occasions.
---
Some links on this page many contain affiliate links. For more information, see our disclosure policy.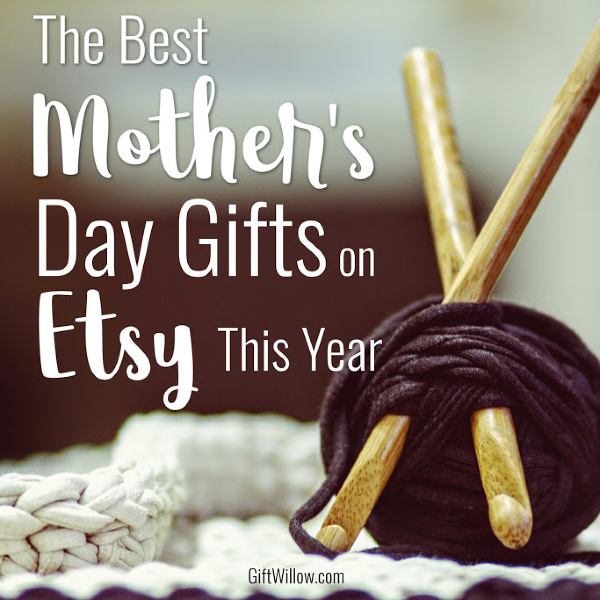 Personalized Stackable Rings
These personalized stackable rings are one of my all-time favorite Mother's Day gifts and one that I personally wear every single day.
Each ring has the name of one of your mother's children on it and are meant to all be worn together, which looks really cool!
The rings are subtle enough that they can easily be worn every single day, but also obvious enough that they will put a smile on your mom's face every time she looks at them (I'm telling you, this is true!).
This not only a great idea for moms and grandmothers, but also great if you're looking for a Mother's Day gift for your wife!

Wooden Keepsake Photo
Photos always go over well for Mother's Day and this Wooden Keepsake Photo takes that to an entirely new level!
You pick the picture and this Etsy seller will send it back to you as an amazing wooden keepsake.
This is great if you have a picture of the kids or the whole family.
It's a really fun Mother's Day idea that will be cherished forever.

Egg Nest Necklace
This egg nest necklace is one of my favorite sentimental Mother's Day pieces of jewelry.
Each nest is customized to match the number of kids (or grandkids) your mother has.
It's a really beautiful necklace that can go with so many different outfits and has such a special meaning!
It is also lightweight, which makes it especially comfortable to wear.
To Us You Are the World Artwork
Etsy is the place to go for personalized artwork and this beautiful personalized quote is a perfect Mother's Day gift idea, especially if you want to give your mom something on behalf of you and a sibling.
The quote says "To the World You are a Mom, To Us You are the World", with your names signed.
It's such a sweet reminder that will be special every single time your mom reads it (which will hopefully be each and every day!).

Mom Life Hourly Tracking Water Bottle
For really busy moms, this hourly tracking water bottle is an AMAZING gift.
The water bottle shows you exactly how much water you should be drinking….throughout the entire day!
There are a lot of other really fun patterns, so if the Mom Life design isn't the exact right fit, there are plenty of others that will do the trick.
This is a really fun Mother's Day gift that will work for just about any mom.

Family Names Pillow
This customized Family Names Pillow is one of my favorite Etsy items and it makes a perfect Mother's Day gift.
You get to pick how many names will be listed, so it works for kids or grandkids.
The design is the perfect amount of simplicity to go in any bedroom or on any couch and is such a great reminder of a full and loving family!

Engraved Bangle Bracelets
These engraved bracelets are another brilliant Mother's Day jewelry idea and perfect for moms that love bangles.
Each bracelet can be engraved with whatever you want, which means you can stick to the names of each of your moms kids, or heartfelt quotes that would mean something to your mom.
The engraving is subtle, so the bangles will look fabulous on their own without looking too cheesy, but will still melt your mom's heart every time she looks at them.

Personalized Egg Nest Artwork
This personalized nest artwork is such a brilliant idea and would look so beautiful on any wall!
Each egg in the nest is personalized with the name of one of your mother's children or grandchildren.
You can pick from a ton of different fonts and colors, which adds more personalization and control over the tone of the photo.
This is a really beautiful piece of artwork for Mother's Day and something that every mom should have somewhere in her home!

Personalized Yeti
As a mom, I can tell you that a Yeti isn't just an unbelievable coffee mug…it's life-changing!
These mugs will keep your coffee or tea warm for HOURS. Literally hours. They will also do the same for cold water…it will stay cold over an entire night!
So these personalized Yetis are brilliant Mother's Day gift ideas and something that is not just thoughtful, it's also extremely useful.

Family Tree Keepsake Necklace
This Family Tree Keepsake Necklace is another great Etsy Mother's Day gift that is perfect for moms that really love nature (and their kids!).
It has a rustic, natural feel and is low-key, but still very meaningful.
Mother's Day jewelry is always a huge win on Mother's Day, so this is another great option for something sentimental and meaningful.

I hope you get a chance to try out one of these Etsy Mother's Day gifts! If none of these feel like the perfect fit, make sure to check out Etsy's curated Mother's Day section that adds new ideas every single day! Etsy is such a great site to use for sentimental and thoughtful gifts, so it's a perfect fit for Mother's Day.

Good luck with your shopping and Happy Mother's Day!

You may also be interested in:
---
Subscribe to our email list for great gift ideas right before holidays and big occasions.