If you have an avid quilter in your life, you know two things – 1. They LOVE quilting, and 2. They already have everything they need. Which makes finding the best quilter gifts a little tough…especially when they know so much more than you!
So here are some fun ideas for quilting gifts that avid quilters may not already have. Some are really practical, others are just a lot of fun. And some just make their quilting adventure more enjoyable.
Good luck with your shopping. And happy quilting!
---
Subscribe to our email list for great gift ideas right before holidays and big occasions.
---
Some links on this page many contain affiliate links. For more information, see our disclosure policy.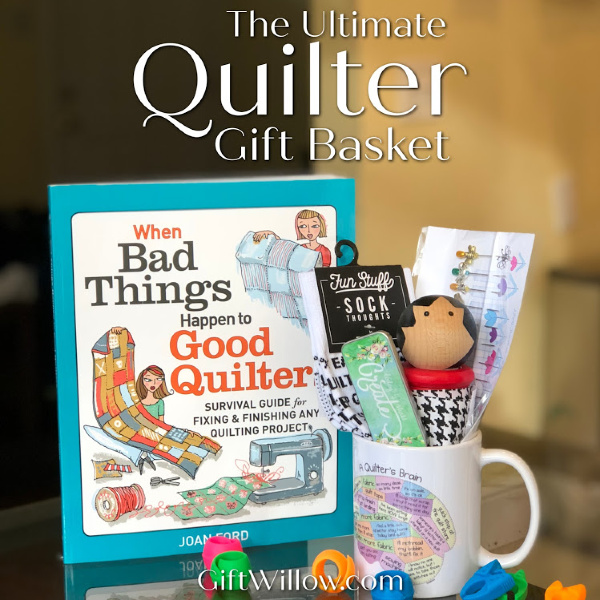 Binding Buddy
This binding buddy was one of my favorite quilting gift discoveries because it's just so adorable!
It has a practical, functional purpose (you wrap your binding around it as you're sewing), but it's also cute enough to just be decorative.
It also comes in different sizes and colors, so you have some room to be even more original!

Premium Pins
Putting together a quilt takes a lot of pins, so I loved the idea of some really unique, beautiful ones to add a little flair to the project!
This woman makes dozens of really beautiful premium pins that have cute little gems and charms attached that will make even a tiny pin a memorable quilter gift.

Eat Sleep Quilt Socks
I just couldn't resist with these Eat Sleep Quilt Socks…because that's what avid quilters do!
They eat, sleep, and quilt.
And really, you can't have too many socks…so they also make great gift ideas for quilters. 😉
Related post: The Best Sock Gifts for Everyone on Your List

Thread Grips
These thread grips are really cute and fun, but more importantly, they have a really practical purpose.
They keep thread from unspooling, which is good news if your quilter uses a ton of thread in different colors.
They work on all different sizes and are another fun accessory that you really can't have too many of.

Magnetic Pin Case
This magnetic pin case is such a cute idea and great for traveling with your quilting supplies to different classes, workshops, or if quilting on vacation.
There are different patterns that you can find on the outside and the inside has a magnet that makes sure all of your pins and needles stay put.
This is a fun quilting gift that is practical, but can also be decorative!
When Bad Things Happen to Good Quilters
When Bad Things Happen to Good Quilters is a great book idea for quilters.
It covers common issues and more importantly, how to fix them.
There's a lot of trial and error in quilting, a lot of learning, and this book is a great resource to help finish up tricky projects.

Quilter Brain Mug
This mug is what I used as my "basket" and I just couldn't resist because I know that's exactly what the inside of a quilter's brain is like!
It's cute, fun, and relatable. It also has a practical purpose, but can be used for a ton of other things, as well as just decorative.
I hope some of these quilter gift ideas help find that perfect something for that special quilter in your life. 😉 Good luck with your shopping!

You may also be interested in:
---
Subscribe to our email list for great gift ideas right before holidays and big occasions.