A date night subscription club is such a fun gift idea for a significant other (or couples), especially when it seems like they already have everything.
With these, you know that at least one night a month, you'll have a prepackaged, fun way to spend time together – all from the comfort of your home!
And they are really perfect for couples that have kids at home or those that really just prefer to stay in for the night.
Even better, depending on how much you spend on a typical date night, these can actually be really budget friendly!
So if you're on the hunt for one of the best gifts for your boyfriend, girlfriend, husband, or wife, a date night subscription club definitely has be to be something to consider.
So what kind of options are there? Here are some of the best ones to choose from:
---
Subscribe to our email list for great gift ideas right before holidays and big occasions.
---
Some links on this page many contain affiliate links. For more information, see our disclosure policy.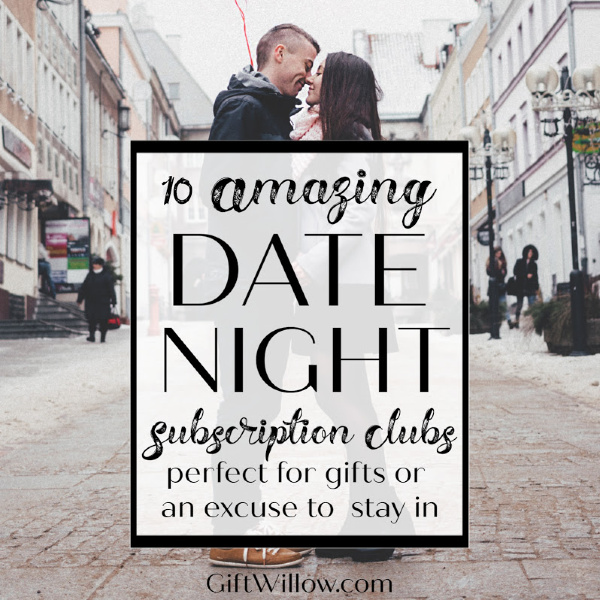 Finders Seekers Mysteries
Finders Seekers Mysteries is a seriously fun and unique date night idea that is perfect for game night lovers as well as travelers.
Every month, you get a box that sends you on an unique mission through a different part of the globe with clues, cryptic messages, and special codes…all while in the comfort of your own home.
You not only get to know a different culture each month, but each mission and discovery is different, so you'll never get too used to what is ahead.

Shaker & Spoon
Shaker & Spoon is one of the coolest date night subscription clubs for any couple that enjoys a fun cocktail at night.
Each box comes with all the fixings (minus the alcohol) to create 3 different fun and unique cocktails.
This means that this date night subscription box will be a lot of fun for MORE than just one night a month, which is a huge bonus.
It has a ton of 5-star reviews, so it's a huge hit with everyone that tries it!

Blue Apron
Blue Apron is one of the first meal subscription clubs to be created and it set into motion a whole world of great date night subscription clubs.
When your Blue Apron delivery arrives, you get all of the ingredients, fixings, and directions to prepare an amazing meal (and one that you've gotten to approve of ahead of time).
It's a really fun idea to do together as a couple, so it makes a fabulous date night gift idea!

UnBox Boardom
If you and your significant other are a fan of game night, then UnBox Boardom is the date night subscription club for you!
Every month you will receive a brand new board game, most of which are unique and up-and-coming games.
What's fun about this subscription club is that you can choose games according to your preferred style (strategy, family, etc.) and you also have the option of a quarterly subscription instead of monthly.
This is a lot of fun and another great gift idea for couples that like (or need) to stay in!

Red Velvet NYC
Red Velvet NYC is the perfect date night gift idea for couples that love to bake and enjoy decadent desserts.
Every month, you get all the ingredients you need to create two spectacular different desserts – which means your date box will create twice the amount of dates!
This is a really fun change from classic meal delivery services and a fun idea for couples that enjoy staying in (or don't have a choice).

Wine of the Month Club
Wine of the month is a classic date night gift idea that never gets old and is really always appreciated…because you can still do whatever you want for your date.  
You just have the wine to make it better!
This is also a really great way to try new wines that you've never heard of before or new flavors that you otherwise wouldn't have tried.

Escape the Crate
If you've ever wanted to try an Escape Room, but just haven't been able to, here's your next date night fix: Escape the Crate!
This subscription club creates an escape room scenario right in your own home.
This is a really fun gift idea for couples and significant others that love to go out, but really need some nights in.

Beer of the Month
No description necessary for this one!  This beer of the month club is a fabulous gift idea for couples or significant others that love beers (and especially trying new ones).
There are so many new craft breweries popping up all over the country that have amazing and unique beers to try, so this is a particularly fun subscription club for people that like to try new things.

Boxed Locks
Boxed Locks is the perfect date night gift idea for puzzle lovers (as in, code-breaking, not jigsaw puzzles)!
Straight from the UK, this box has some special British flair and is full of different props and tools you'll need to unlock your chest.
As a fun added bonus, the boxes sometimes contain items that you'll want to keep to play around with in the future.
This is another really fun gift idea for couples or significant others that love game night and are at a phase of life where staying in is the norm.

Sleuth Kings
If you've finished binge-watching your last detective show, then Sleuth Kings may be the date night subscription club for you.
This subscription club gives you everything you need to help to solve a mystery, including access to a secretive lead detective.
This is really fun for crime-solving couples that like a good mystery and challenge.

Mystery Pleasure Box
The Mystery Pleasure Box is the ultimate gift for a significant other when you're looking to spice up that (ahem) special part of your life.
Aside from the contents of your (discreet) subscription box, an added bonus is that you don't need to sneak down a sketchy street and browse a sex shop's aisles awkwardly looking over your shoulder.
You also get to try new things that you probably would never had tried if they didn't show up on your doorstep.
So take the plunge with this one! It might be the best date night you've ever had. 😉
I hope you get a chance to try every single one of these date night subscription clubs! They make great gift ideas for couples or for your special someone. Good luck with your shopping!

You may also be interested in:
---
Subscribe to our email list for great gift ideas right before holidays and big occasions.