If you're on the hunt for the best gift ideas for tea lovers, then you're in luck because there are so many fun tea-themed gifts out there!
For people that really love their tea, it's a lifestyle, not just a beverage, so you can gift accordingly. 😉
This makes the gift hunt a lot more fun because you don't have to worry as much about whether or not they'll really like what you're getting. If they love tea, then they'll love these ideas!
Good luck with your shopping.
Cheers!
---
Subscribe to our email list for great gift ideas right before holidays and big occasions.
---
Some links on this page many contain affiliate links. For more information, see our disclosure policy.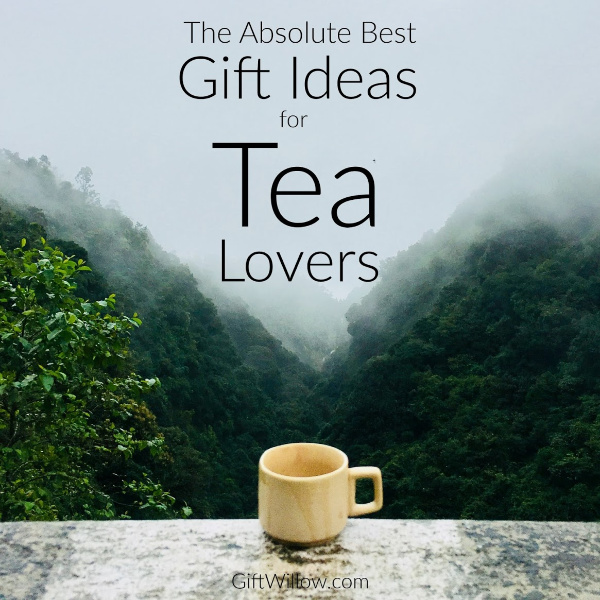 Loose Leaf Tea To-Go Mugs
A loose leaf tea to-go mug is a really amazing tea gift idea. In fact, for true tea lovers, this could be life-changing!
This to-go mug lets your tea steep on the go, so you don't have to deal with waiting for it to finish.
And more importantly, you can simply refill with water and you've got more tea!
This is a really great gift idea for tea lovers that are at work all day or often on the go.

Glass Teapot
This is the ultimate teapot for serious tea aficionados.
It's a personalized size, so you can actually steep your tea right in the pot.
There's no glass handle or spout on purpose, which means this thing won't break easily AND it can go in the dishwasher (game-changer!).
It's also specifically made to be clear so that you can see the color of your tea…which makes it way easier to know when it's just the way you like it.
This is a really great gift idea for tea lovers!

Glass Honey Dispenser
This honey dispenser is such a fun and cute tea gift and SO practical!
Honey is critical for most tea lovers, but it can be a mess…or just not very cute. 🙂
This glass honey dispenser takes care of that and just looks really wonderful when you're making your tea.

Tea Subscription Club
You just can't go wrong with a tea subscription club!
These are really popular so there are a lot of fun options for your tea lover.
Every month they'll get a box delivered to them with whatever goodies you pick. This is something they'll LOVE.
Here are some of the best tea subscription clubs to consider:
Simplicity Teas – This tea subscription club is awesome because it has a mini version which makes it really affordable.
Tease with Tea – This is your classic tea subscription that comes in a really beautiful boxes that make it an amazing gift every single month.
Coffee and a Classic – This subscription club isn't just for coffee lovers, there's a tea option too and this subscription club is AMAZING! Each month, you get a gourmet tea along with a nice tea glass, a classic book, and some other goodies that match the book and tea.
Tea Timer
A really nice tea timer is a great gift for serious tea lovers because the perfect steeping time of each tea is different.
These tea timers account for that by timing 3, 4, and 5 minute intervals.
But more importantly, they also look really cool and are a fun tea accessory to have sitting out!

Cute Tea Infuser
These tea infusers are so adorable and make a really fun (and affordable) gift for tea lovers.
You need a tea infuser for every cup of tea you make, so you really can't have too many.
And these are so cute that they have the same effect as a really beautiful or inspirational mug – they just instantly put a smile on your face!
They also hold onto the mug nicely, so you don't have to worry about a mess.

Disposable Loose Leaf Tea Bags
Disposable loose leaf tea bags are a great extra little gift (think stocking stuffer-type item) for tea lovers because they enable you to use whatever loose leaf tea you want, but just like a classic disposable tea bag.
These are really great if you're having a lot of people over or if you're on the go and need something that you can throw away.
This is something all tea aficionados should have tucked away in their cupboard!

Perfect Tea Scoop
The Perfect Tea Scoop has a very important job – it makes sure you're measuring just the right amount of loose leaf tea.
This is a fun and cute tea gift that will get used each and every time a glass of tea is made.
It's also an affordable tea gift, so it's perfect if you're putting together a tea gift basket (and also makes another great stocking stuffer idea!).

Tea Cosy
This tea cosy is so adorable and comes in a lot of fun patterns, so there's definitely one that will fit everyone's style.
Once your tea is made, you just slip this over the top of the tea kettle and it will keep it warm for much longer.
And of course, it just looks so nice!
Which makes it really fun to use if you're hosting a group or just sharing tea with a friend.

Tea Bag Plate
These tea bag coasters are another fun (and useful!) tea gift idea, especially for people that love to host or have a friend join them for tea.
They're really adorable little plates, but they have a really important function too – they're a place to put your spoon and/or tea bag or infuser so that you don't make a mess anywhere else.
Any true tea drinker definitely needs a set of these!

Loose-Leaf Tea
And finally, of course, don't forget to add some great tea to your gift!
You definitely want to go with loose leaf tea and there are a lot of places that make exceptional tea, but here are some fun ones to start with:
I hope these tea gift ideas help you find the perfect gift for the tea lover in your life! Good luck with your shopping. 🙂 Cheers!

You may also be interested in:
---
Subscribe to our email list for great gift ideas right before holidays and big occasions.