I LOVE getting socks. I LOVE giving socks. Even my kids like getting socks! Hopefully everyone in my life loves getting socks because that's a gift I give to everyone – awesome socks. It's honestly one of my favorite go-to gifts.
So what are the best socks to give as gifts? Luckily there are some really amazing sock gift ideas – all that end with really comfy feet and a more attractive foot. 😉
Here's where to start:

---
Subscribe to our email list for great gift ideas right before holidays and big occasions.
Some links on this page many contain affiliate links. For more information, see our disclosure policy.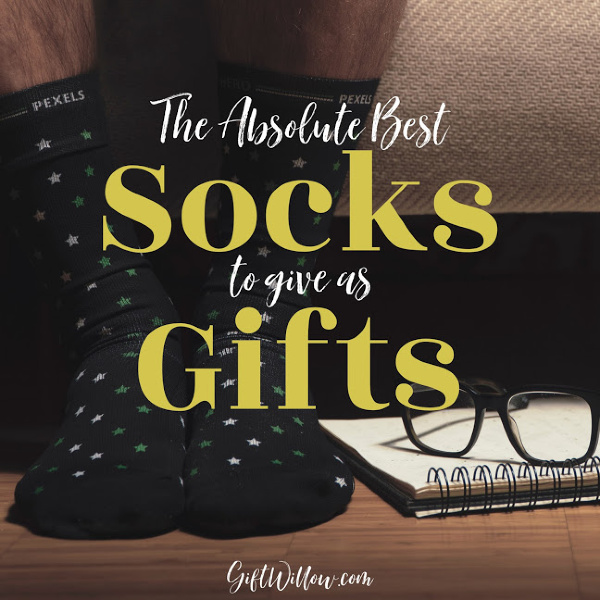 If You Can Read This, Bring Me…Socks
"If You Can Read This, Bring Me Wine" socks are something that every woman should own.
Not only are they comfy and hilarious, they also come in a ton of version that can work for just about any drink of choice.
Here are some of the funnest to consider:
Inspirational Daily Affirmation Socks
These inspirational socks are the greatest invention ever.
First of all, they're actually really comfy athletic socks so you'll enjoy wearing them.
Second, they'll make you happy every single time you look at your feet!
There's a ton of inspirational affirmations to choose from, but some of the coolest ones are:
Cupcake Socks
These cupcake socks are SO. MUCH. FUN.
And what's great is that the presentation is only half the fun – they're also really comfy socks (and they come in different colors)!
Also, it's pretty cool to know you can now roll up socks and present them to people as a cupcake (who knew??).

Foot Cardigan
This is my go-to sock gift when I'm looking for more than just a fun add-on. And these guys are definitely the best. Their claim to fame came on Shark Tank and it's well-deserved because their product is awesome.
So what is their product? Foot Cardigan a sock subscription club (where you get a pair of socks mailed to you each month). But not just any sock subscription. Their socks are all wacky with fun designs that you just can't find anywhere else.
This is a great gift for men, especially if they work in an office setting or as a teacher or really anywhere where they have to wear socks everyday (which is why socks as gifts are just so freaking cool!).

EZ Sox
Without a doubt, EZ Sox are the not only the best socks for kids, but also the coolest!
They come in a ton of fun designs (for boys or girls) and they have these cool little hooks that make it so much easier for kids to put them on themselves…which is a big freaking deal.
I've gotten these socks over and over for my kids and they always love them (every year, I stuff pairs in their Christmas stockings and in their Easter baskets!).
These are fun AND practical.

Bombas Socks
If it was possible for a sock company to have a cult following, it would be Bombas.
Those who love them claim that they are the absolute best socks in the whole entire world…and they are REALLY comfortable.
In addition to making awesome socks, the company has an amazing mission as well – for every pair of socks purchased, they will donate a pair of socks to a homeless shelter.

Out of Print Socks
If you've got a Harry Potter fan on your gift list, then look no further. In fact, if you've got any type of book lover on your hands, then Out of Print Socks needs to be your next stop.
These guys have some seriously cool designs and all of their socks are super comfy.
They've got adult themes AND kid themes, so this place can fulfill everyone's gifting needs (Hungry Caterpillar socks for the whole family??).
Kids Toe Socks
Toe socks in general are a really fun gift idea, but toe socks for kids are even better.
They're perfect for stocking stuffers or Easter baskets and believe it or not, they're really comfortable for a lot of kids.
And the pattern is absolutely adorable. These will definitely be a hit for a silly kid gift!
I hope some of these fun sock gift ideas work out for you! Nothing beats a pair of socks, so hopefully you'll soon see lots of smiles! 🙂

---
Subscribe to our email list for great gift ideas right before holidays and big occasions.