Ahhhh….the 5 Senses Gift Idea. Whoever came up with this concept was brilliant…and gave so many of us the most romantic gift idea ever! Nothing says love like targeting each sense of your significant other in a special way. It's all around one of the best gift ideas ever….except for the fact that you still need to figure out WHAT to get that will fulfill each sense! But that's what I'm here for – to give you some amazing 5 senses gift ideas that will totally impress your special someone.
So are you ready to get your gift wheels churning? If you're dead set on the 5 Senses Gift this occasion, hopefully the following gift ideas can help:

---
Subscribe to our email list for great gift ideas right before holidays and big occasions.
Some links on this page many contain affiliate links. For more information, see our disclosure policy.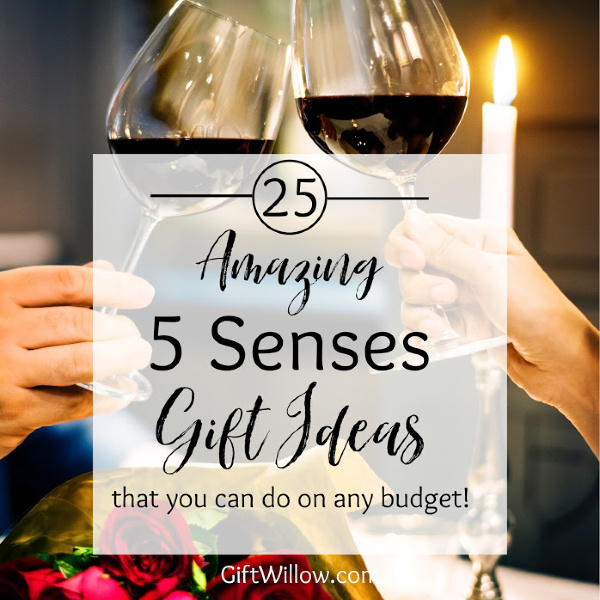 But First, What is a 5 Senses Gift?
The 5 Senses Gift is a simple, yet kinda complicated, brilliant gift idea for your boyfriend, girlfriend, husband, wife, or really whoever, that targets each of their 5 senses – sight, sound, smell, touch, and taste. It typically means that your special someone receives 5 different gifts, with each gift focusing on one specific sense.
When it comes down to it, it's a really romantic gift idea that says I want to please you in every way possible…and it works! Because your five senses really are a straight path to your heart. 🙂

5 Senses Sight Gift Ideas
To please the eyes, you want something beautiful, meaningful…and something they can see! There's a big budget range for this one, which is great because you don't need to get super expensive if you can't afford it.
Here are some great 5 senses gift ideas for sight:
A meaningful picture. If your gift is for a significant other, then this is an easy one – get a great picture of the two of you and put it in a nice frame! If you've got kids, it can also be pictures of them. Anything that will melt their heart when they see it.
Artwork. Artwork can be handmade or from a favorite artist. It can be small or large, funny or sentimental. You need to have an idea of what your gift recipient likes, but artwork is a great idea for your sight gift.
Movie tickets. Movie tickets are a really fun 5 senses sight gift because it can be a whole date night idea! For this one, you can either create a "coupon" for a date night or actually purchase tickets or a gift card.
Books. I'm a huge fan of books as gifts, so this can be another really great sight gift idea if your special someone likes to read. Scanning the New York Times best seller lists is a great way to get ideas.
Succulent plant. Succulent plants are really great sight gifts for people who work in an office or at a desk. They're so easy to care for, don't smell like anything (because then it wouldn't be a sight gift), and are small enough to fit easily on a desk. They're so beautiful and are sure to be something uplifting to look at all day.
5 Senses Sound Gift Ideas
Sound gift ideas are fun and easy because they typically revolve around one major theme – music! And with music involved, you can easily be romantic or practical (or both!) which always makes for great gifts.
So here are some great 5 senses gift ideas for sound:
Waterproof speaker. This little waterproof speaker is one of the coolest tech gadgets you can get and it's surprisingly inexpensive, which makes it a really great 5 senses sound gift. It will connect with your phone, so you can listen to whatever you want right in your shower!
Wireless headphones. Wireless headphones are a really cool sound gift idea for people that like to run or workout because you don't need to mess with cords anymore!
Tickets to a concert. This is the ultimate 5 senses sound gift idea and perfect if you're looking for a full date night idea!
Echo or Dot. If your special someone doesn't have an Amazon Echo or Amazon Dot, this is a great time to get it for them. These little devices are so great for playing music and you instantly have access to hundreds of fun playlists that Amazon has put together for you.
Audible Subscription. An Audible subscription is an awesome 5 senses sound gift because it gives you access to monthly audio books (which are great for people that have to commute to work!). You can get a free trial here, which gives you 2 free audio books.
White noise machine. If music isn't your thing, but sleep is, then a white noise machine is a great 5 senses gift idea! Most machines make various noises that will help you sleep deeper and longer, which is really one of the best gifts you can possibly get. 😉
5 Senses Touch Gift Ideas
Touch gift ideas are really, really fun, especially if you want a little romance in your gift because…well….touch is definitely one of the most romance inducing senses! They can also be really cozy and silly though, so don't worry if romance makes you gag.
Here are some fun 5 senses touch gift ideas:
Massage. This is the ultimate touch gift idea, whether you want romance (maybe a DIY massage) or not (a gift certificate will do!). Not only do massages feel amazing, but for most of us, they're a total luxury so they make a really amazing gift!
Pedicure. This is like a massage, but much less expensive and definitely less romantic if that's not your thing. But pedicures are AMAZING, so it will still definitely impress!
Pajamas. Nothing is better than a new pair of comfy pajamas! This is a great touch gift (just make sure they're super comfortable ;-)).
Weighted blanket. Ok, if you've never used a weighted blanket, you need to give it a try. Long story, short – it basically simulates a hug…all night long! They're scientifically proven to improve sleep and they are soooo comfortable. It's a great 5 senses gift idea both for people that struggle to sleep and also anyone that sleeps alone (even if it's just for now!). 😉
Lotions and oils. Lotions and oils epitomize touch, so they're a fun and easy choice for this sense. They're also inexpensive, so they're good for a low budget.
Clothes. The touch gift is the perfect time to give a nice piece of clothing, just make sure it's something really comfortable, otherwise it doesn't really make sense (haha…get it?? ;-)).
Socks. I am a big, big, big fan of socks. Comfy socks can make a huge difference in your day and nothing beats a really comfy pair. This is really fun 5 senses touch gift idea and can also be inexpensive, so it works on almost all budgets! For some of the best sock gift ideas, check out my list here → The Best Sock Gifts for Everyone on Your List
5 Senses Smell Gift Ideas
The smell gift ideas can be tough, especially if you're shopping for a man, but there are still a lot of fun options and certainly one of them will work.
Here are some of the best 5 senses gift ideas to consider for smell:
Cologne or Perfume. This is the obvious choice for a 5 senses smell gift and for obvious reasons – nothing elicits a scent like a fragrance!
Potted herbs. This is a really fun idea for smell that is great for people that enjoy cooking or love plants! Herbs are really fragrant, so they're a really fun way to celebrate the gift of smell.
Candles. Scented candles are another fun and obvious choice for your 5 senses smell gift. For women, the scent options are endless, but even for men there are a lot of fun ones to consider – scents like Frasier Fir, Evening Bonfire, and Warm Woods are perfect for guys.
Bath bombs. The right kind of bath bombs smell amazing (not to mention that they feel wonderful), so they're great as smell gift ideas, plus they can definitely classify as inexpensive! These are the ones that I love. They smell amazing and are a great deal.
Essential oil diffuser. Essential oils have a lot of important attributes, one of which is their smell. This makes diffusers a great option for smell gifts!
5 Senses Taste Gift Ideas
Taste gift ideas are definitely the easiest of the 5 sense categories because they involve everyone's favorite gift – food! You definitely want to err on the side of decadence though, so don't hold back. This is the time to be fun and spoil your sensual buddy.
Here are some great gift ideas for taste:
Restaurant gift certificate. A gift certificate to a favorite restaurant is an awesome 5 senses gift because it incorporates a whole date night into the gift, which adds a ton of romance and thought.
Alcohol. For some people, this is a no brainer – a celebratory bottle of champagne, a bottle of their favorite whiskey, or all the fixings for a delicious cocktail. Alcohol makes a great gift and certainly supports romance, so it's a really fun option for taste gift ideas.
Supplies for a favorite dinner. A great alternative to a restaurant gift certificate is to include all the supplies to make a favorite meal. This is another opportunity for a fun date night, which is a great added bonus.
Chocolate. The ultimate classic! Especially if it is Valentine's Day, you really can't go wrong with chocolate. It's one of the greatest ways to indulge in your senses.
Coffee or tea. Honestly, nothing tastes better than a good cup of coffee or tea in the morning! If you have a coffee or tea lover on your hands, then some nice coffee or teas are perfect for your taste gift.
I hope these 5 senses gift ideas work out well for you!  Let me know if you've seen, heard, touched, tasted, or smelled any other great ideas! 😉
You may also be interested in:
---
Subscribe to our email list for great gift ideas right before holidays and big occasions.