What could possibly be better than the gift of sleep?? For most of us, a good night sleep is an elusive dream that we learn to operate without. But it doesn't have to be that way! There are easy ways to increase your chances of sleep and that's what all of these sleep-inducing gift ideas are about – gifts that help with sleep!
So if you have someone on your list that is constantly tossing and turning, suffers from late night anxiety, or just really loves to snooze, these gift ideas for sleep are your answer.
Good luck with your shopping. 🙂
---
Subscribe to our email list for great gift ideas right before holidays and big occasions.
Some links on this page many contain affiliate links. For more information, see our disclosure policy.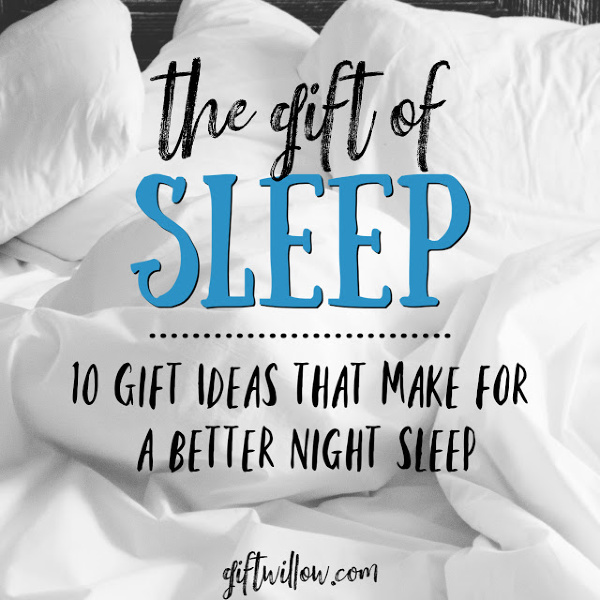 Weighted Blanket
Weighted blankets are the king of good sleep. I'm telling you, these things are amazing.
They were specially designed to release chemicals in the brain that reduce anxiety – seriously!
They almost act as a simulated hug.
They are so effective that they are commonly recommended for people with PTSD, insomnia, and even autism.
This is truly one of the best anxiety-relieving gifts for sleep that you can get! It's the real deal.

Sleep Tea
The right kind of tea can work wonders for trying to get better sleep and tea is always a great gift idea.
Not only are there actual physical health benefits to these kind of teas, but slowing down to have a glass before bed soothes the mind as much as the body.
This tea is amazing and comes in beautiful packaging that is perfect for a gift!

Noise Machine
Some people are so attached to their noise machines that they literally can't sleep without them.
It may seem like a crazy idea that a little noise will help you sleep, but it's proven to work…not just in babies and young children, but also in adults.
Most noise machines come with various noises you can choose, so you can pick from a rainstorm or white noise, to the jungle or beach.
Noise machines are a really fun idea for people that have trouble falling asleep and are totally safe to use with children.

Sleep Spray
Sleep spray is another fun gift idea that supports a good night sleep.
Almost all sleep sprays contain lavender, which has proven health benefits that relieve stress and anxiety and actually increase slow-wave sleep – so these aren't a gimmick!
This is one of the less-expensive sleep gifts as well, which of course makes it a great gift idea, especially if you're putting together a stress-free, sleep-easy gift basket.

Bedtime Bulbs
You may have heard that blue light inhibits sleep – and it's true! The problem is that there's a lot of blue light in almost all lighting…except these special Bedtime Bulbs.
They're made specifically for improving sleep and they do that by releasing less blue light than normal light bulbs.
They're warmer and a little dimmer than the lighting most of us use, but that just makes them more perfect for bedtime.
These are another really fun sleep gift that a lot of people don't know about.

Sleep-Inducing Subscription Clubs
In my own subscription club addicted opinion, I'm not sure there's a better sleep-themed gift idea than a subscription club that delivers new sleep-inducing products to your door every single month.
How cool is that??
And believe it or not, there are actually a few different options…all that make really cool gift ideas!
Here are the best to consider:
Therabox – Therabox has a ridiculous amount of 5-star reviews and for good reason – it's actually developed by therapists to reduce stress (a huge sleep inhibitor).
SnoozeBox – SnoozeBox is 100% devoted to increasing sleep. Every month, your box comes full of different natural sleep aids to try.
MindWander – MindWander is specifically for people that suffer from anxiety and stress, which obviously has a huge effect on sleep. This box is devoted to increasing mental health each and every month.
Books
Books may not seem like an obvious choice, but there is a ton of research pointing to the effects that screen time has on our sleep (and it doesn't bode well for screen time).
So what better way to cut out the phone and TV than with a really amazing book?
So try and figure out what your gift recipient would love and get them a book that fits their taste.
Think of all-time best sellers (like Harry Potter) or classics (like Wuthering Heights) and consult the New York Times best sellers lists for more ideas (those are always worth reading).

Essential Oil Diffuser
Essential oils can work wonders on a variety of ailments, one of which is sleep. An essential oil diffuser helps to disperse these sleep-inducing oils to help you relax and fall asleep at night.
So many people swear by these oils, that they actually make special sleep blend oils that specifically target the need for sleep.
This is a really great sleep gift because it can also be used for other things (like sinus-relief, headaches, and anxiety).
Tempur-pedic Pillow
Comfort is crucial if you want to get a good night sleep and pillows are one of the main culprits to discomfort in bed.
Without a doubt, tempur-pedic pillows are some of the most comfortable pillows out there – trust me.
At first, they may seem hard (I used to call them rock pillows…), but it only takes one night of sleep to realize their power…and then you're hooked!
Pair this with a weighted blanket and your sleep-deprived gift recipient will be worshipping you for the rest of time.

Flannel Sheets
Comfort may not be the only factor affecting sleep, but it sure does help! And nothing is comfier than a nice set of flannel sheets (except maybe a weighted blanket, temperpedic pillow, AND flannel sheets).
I've used (and loved) flannel sheets for as long as I can remember and believe it or not, one of the most comfy ones I've found are right at Target…which is great because they definitely won't break the bank and can easily be part of a fun sleep gift basket!

Pajamas
Don't forget about this classic gift idea that absolutely helps with sleep, but is also a versatile idea that can be fun or silly, as well as romantic or personal.
There are obviously endless options for pajamas, but remember – you're going for comfort! That is the most important piece of this gift if you're hoping to help your recipient sleep soundly at night.
A great brand to try out for really comfortable pajamas is Bed Head Pjs. You only need to try them once to become addicted!

Humidifier
Sure, if may not be the most personal gift out there, but if you can help someone sleep better, they're never going to forget it (and what gift is better than that?)! And that's exactly what a humidifier will do, especially during the winter.
Dry air is one of those things that we forget affects sleep, but it absolutely does (especially on children), which makes it a great sleep gift for people that are struggling through the night.
And as an unexpected little perk, the sound of a humidifier is often a soft, comforting lull that only makes bedtime that much more comfortable.
I hope these gifts for better sleep are put to good use and turn you into the best gift giver ever! Sleep well and good luck with your shopping.
You may also be interested in:
---
Subscribe to our email list for great gift ideas right before holidays and big occasions.