Father's Day is a FUN holiday, yet we still tend to wait until the very last minute to buy something special. Luckily, there are so many amazing last-minute Father's Day gifts that we can still pull off something amazing!
Dads can be easy to shop for – clothes, food, drinks, and tech gadgets work for just about all of them.
For others, there's some really easy hobbies to fall back on, or even new ones to try out.
No matter what you're on the hunt for, at least one of these ideas is bound to work for you!
Good luck with your shopping and have a fabulous Father's Day!

---
Subscribe to our email list for great gift ideas right before holidays and big occasions.
---
Some links on this page many contain affiliate links. For more information, see our disclosure policy.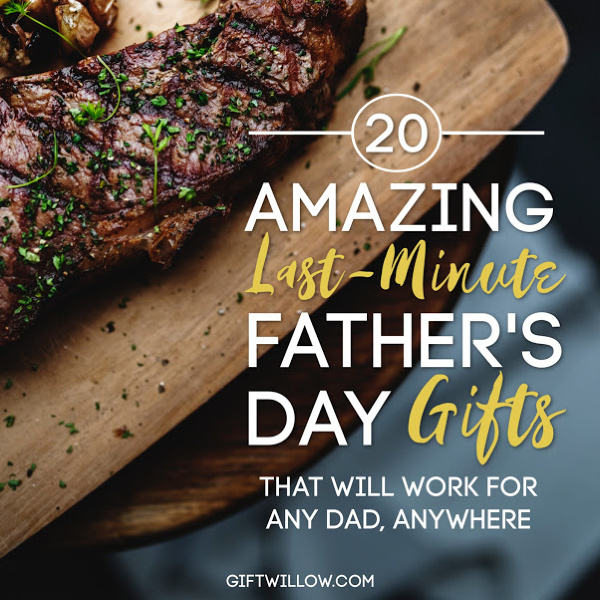 2-Day Shipping (or Next Day) Father's Day Gifts
If you're an Amazon Prime kind of person and have 2 days (or even 1 if you're willing to spring for 1-day shipping) before Father's Day, then there's a whole slew of options that you can get delivered to your (or your father's) door.
Here are some of the biggest winners that work for all dads:

Sentimental Dad Gifts
Tech Gadgets
Grilling Accessories
Fun Books for Dad
Long-Distance & Last-Minute Father's Day Idea
The ultimate last-minute Father's Day gift is definitely one of these subscription clubs.
What's so amazing is that they're still really cool gift ideas AND they work really well for long-distance gift giving.
There are some really fun subscription clubs for men, but here are some of the best that work great for Father's Day:
Need-to-Stop-on-the-Way-to-Dad's Ideas
These are great last minute gift ideas if you want to stop on the way to your father's house and want to give him something tangible, as opposed to a subscription club or gift certificate.

Picture with Frame
This is a classic that NEVER gets old and is as easy as sending over a great photo to Walgreens and then picking out a frame there when you pick up your picture (which should be able to easily print within an hour).
This is great for Dads, husbands, and grandfathers!

DIY Cocktail Kits
You can create a really cute "cocktail kit" all in your grocery store. Just pick the liquor and include all the fixings you would need.
Here are some classic cocktail combinations that are perfect for dads:
**If you also have a place like Target near you, you may also be able to find cocktail glasses that match!

Mouth-Water Meat…and Dinner Fixings
This is a great idea if you're planning on spending the afternoon and evening with your dad – pick up some really amazing steaks and plan on grilling or cooking dinner for your dad!
If your dad likes to cook or grill on his own too, then get some additional fun spices and or marinades as part of the gift that he can use later.

All About Dad Printable Questions
If you need a Father's day gift from little kids, an All About Dad printable is the best and easiest last-minute addition to their Father's Day gift!
The questionnaire will ask your child questions about their dad – what's his favorite food? Why do you love him so much? – and they'll answer in their own words.
Which we all know is soooo adorable!
This is a fun and easy Father's Day gift from the kids.
You can get a free printable here – All About Dad Questionnaire Printable

Crafts with the Kids the Day Before Father's Day Ideas
If you've got little ones running around and want to make a gift for either your husband (from the kids) or your own dad (from the grandkids), then you're in luck because there are sooooo many cute ideas out there and a lot of them can be done the day before or even the morning of if you're really lucky.
Here are some quick and easy Father's Day crafts to do with the kids:
I hope these last-minute Father's Day gift ideas help make your day special. Enjoy the weather and time with family!

You may also be interested in: